Vol. XIV No.

11
GLOBAL AND ECUMENICAL IN SCOPE
CANADIAN IN PERSPECTIVE
Wayne A. Holst, Editor
My E-Mail Address:
wholst@telus.net
This email is sent only to a voluntary subscriber list.
If you no longer wish to receive these weekly columns,
My Special Item for this issue of Colleagues List is an introduction to a book that has appeared in many editions since 1982 - that's 36 years ago! It's hard to believe that I have been reading and promoting Ralph Milton's The Gift of Story for all those years.
I hope you enjoy it.
Autumn has arrived where we live. We had snow overnight, and that is not so much to my liking. It bodes of winter storms and cold weather.
Fortunately, we still thrive in all of our Canadian seasons, and consider it all a gift. Blessings to you as you enter new seasons as well!
Wayne
*****
SPECIAL ITEM

Book Notice -

THE GIFT OF STORY
by Ralph Milton

Woodlake Publishing,
Kelowna, BC. 2018
$19.95 CAD. 235 pages.
ISBN #978-1-77343-032-4

Publisher's Promo:

The Gift of Story picks up where Ralph Milton's live
StoryFest events leave off. Those events – led by
gifted musicians, artists, and storytellers Linnea
Good, Don McNair, Allison Rennie, Donald Schmidt,
as well as Ralph Milton – were designed to provide
a spiritual "shot in the arm, focusing on evocative
Bible stories and personal faith experiences."

In this companion book, Milton shares insights
about storytelling related to themes ranging from
mythology and human identity, to social justice,
changing from the inside out, tragedy, awe and
mystery, hope and promise, and more. But the
story is always central; the story is always
"the thing."

The videos include key biblical stories about seminal
biblical characters - Eden and Eve, Jonah, the prodigal,
Mary and Elizabeth, the Ethiopian eunuch, Zacchaeus,
Mary of Magdala, Sarah…and more.

In The Gift of Story, Milton romps through a lively
reflection on what stories mean to humans, "the
story-telling animal," how we can all tell stories to
enrich our lives and rejoice in the complementary
role that stories and the logic of science play in our
lives. It's a fun read full of lively, refreshing stories
and insights.
--
Author's Words:
Between the first edition of The Gift of Story (1982) and this one, there have been a batch of books, but this one, I think, will be my last.
Predictions are always unwise, but I can't imagine writing another. Those that have read (my previous editions) ... will recognize some of the passages in this one...
The Gift of Story is in many ways autobiographical. I say that without apology because I have become convinced that each of us has only one story to tell and that's the story we've lived. So this is not so much a chronology of events or a collection of old writings, as a bubbling stew of stuff that has informed, inspired, and delighted me over the years.
So. For what it's worth, this is me.
There have been a batch of people who helped.
(The author proceeds to explain how the StoryFest events he has helped to create have provided much of the material for previous editions. More information about StoryFest is provided in the book.)
I'm in good health, but if this book turns out to be my swan song, then this is a good time to say thanks to God and to all of the people who have come into my life over eight decades. Yes, of course there has been pain and heart-break, but they fade into the background behind a huge sense of overwhelming gratitude.
Dag Hammarskjold said it best.
"For all that has been, thank you.
For all that is to come, yes!"

--
Ralph Milton, Author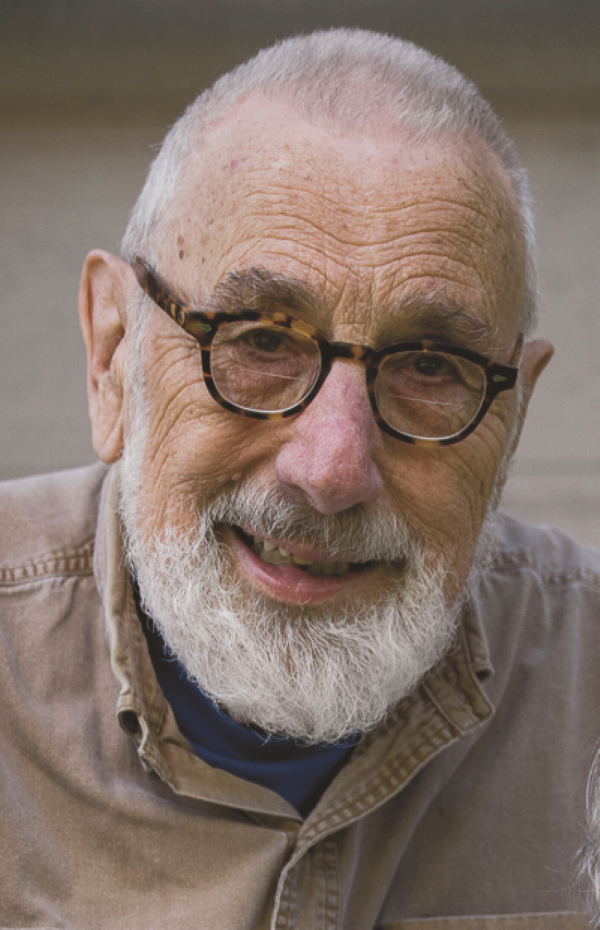 Dr. Ralph Milton is one of Canada's best-known religious communicators, and a recipient of an Honorary Doctorate of Sacred Letters from St. Stephen's College, Edmonton. He also has an Honorary Doctorate of Divinity from the Vancouver School of Theology. A former news broadcaster, open line host and church administrator, Milton is the author of 17 books including the bestselling
Family Story Bible; Angels in Red Suspenders;
and
Julian's Cell,
a novel based on the life of Julian of Norwich. On the Internet, Ralph Milton publishes the popular e-zine Rumors, which uses liberal doses of humour and story to communicate a lively faith. Co-founder of Wood Lake Publishing, Ralph Milton lives in Kelowna, British Columbia, with his wife and friend of 50 years, Beverley, a retired church minister. Together, they remain the ever-proud grandparents of Zoe and Jake.

--

My Thoughts:
I have read and promoted many books by Ralph Milton over the years. Much of what appears here is not necessarily new, but it is expressed in the words of Ralph as he is today. For those who, like me, have read him for several decades, I would again encourage you to read him - since I think he always has something important to say.
For those new to Ralph, this book will provide a kind of "summa" or summary of what he has discovered about himself, his faith and the world he has encountered during more than eight decades of his life.
Ralph has always been popular with a certain audience because he is - well, folksy - in the way he presents himself. I was raised in a rather folksy German-Canadian ethos, and - frankly - while I have always loved my people, I have worked hard to be more "refined" in the way I express myself. While I have not always succeeded in that, I believe I have developed a way of doing that, that is different from Ralph.
But thank God for human variety, and diverse forms of human expression! I could never come close to the readership audience he has appealed to over the years. I respect him for his accomplishments. I also note that he is proud of the formal honours granted him by various church and academic institutions. That he should have received such things as honorary doctorates - while mine were academic - simply tells me that there are different ways of being effectively spiritual and theological.
Milton has a way of presenting himself that takes some rather heavy ideas and transforms them into terms understandable to many. I keep working at that myself, and will tell you why (in a way like Ralph does).
When I went off to college and seminary in the 1960's my dad was proud of me. But he also had some reservations. He wanted me to "get an education" in order to become a "pastor" which was what he had always desired. But in that process, he feared I would look down on him and many of "our people" as I made my exit into the wider world.
I never forgot how he looked at me when he would say those things. I vowed that I would always strive to make challenging things easier to understand. At the same time, I would try to do it with grace and humility. I continue to seek to do that to this day.
I guess that is the "one story I have to tell".
If I seem to be rambling here, I guess I am. Ralph helps me to be more comfortable in the way I express myself like this.
I hope that by reading his book, the same will also happen to you.

---

Buy the book from Woodlake:
https://tinyurl.com/y7regoa9
*****

COLLEAGUE CONTRIBUTIONS

Jim Taylor,
Okanagan, BC

Personal Web Log
September 12th, 2018

"Maligning My Lifelong Friend"

http://quixotic.ca/

--

Mark Whittall,
Ottawa, Ont.

Sermons and Blog
September 8th, 2018

"Be Open"

https://tinyurl.com/yapbzcxv

--

Ron Rolheiser,
San Antonio, TX

Personal Web Site
September 10th, 2018

"Chastity and Love"

https://tinyurl.com/y6ugjjpo

*****

NET NOTES

RELIGIOUS FREEDOM IN CANADA
Perspectives from First and Second
Generation Canadians

Angus Reid Institute,
September 13th, 2018

https://tinyurl.com/yb4od3yj

--

PUTIN WANTS GOD ON HIS SIDE
At Least He Wants Church Support

Foreign Policy,
September 10th, 2018

https://tinyurl.com/ybxr5omz

--

FRANCIS REMAINS A PUBLISHING POWERHOUSE
Many Catholics and Others Read His Books
as Well as Books About Him

Publishers Weekly
September 12th, 2018

https://tinyurl.com/y6ufhvrd

--

SKELETONS BRING BACK
PAINFUL MEMORIES IN SRI LANKA
Recovery of Remains a Tragic Reminder

UCA News,
September 12th, 2018

https://tinyurl.com/y7ommjwd

--

TRUMP HURTING RELIGIOUS
FREEDOM WORLDWIDE
Evangelical Leaders Speak Out

The Christian Post,
September 13th, 2018

https://tinyurl.com/yc5wsot9

--

FAITH-BASED DISASTER RELIEF TEAMS
ON STAND-BY AS ATLANTIC HURRICANE NEARS
Coordinated Efforts are the Best Responses

Religion News Service,
September 14th, 2018

https://tinyurl.com/y7zcn5gq

--

CHINA CONTINUES TO CRIMINALIZE
TIBETANS' CLAIM TO THEIR CULTURE
An Attempt to Control and Eliminate Tibet

UCA News,
September 13th, 2018

https://tinyurl.com/y94frrm3

--

MORE PEOPLE LEAVING CATHOLIC FAITH
IN USA THAN ANY OTHER TRADITION
Sex Scandals Will Probably Increase Trend

La Croix International
September 11th, 2018

https://tinyurl.com/y9kcgedn

--

POPE CALLS FEBRUARY SUMMIT
FOR CHURCH ABUSE PREVENTION
Issue is Global and a Threat to His Legacy

Religion News Service
September 12th, 2018

https://tinyurl.com/y9yfhp8x

--

SOME ENGLISH OPPOSE FRANKLIN GRAHAM VISIT
Like Vancouver, the Issue is His Hate Speech Record

Religion News Service,
September 13th, 2018
https://tinyurl.com/ydhtr6fx
*****
WISDOM OF THE WEEK

Provided by Sojourners and the Bruderhof online:

The wound is the place where the Light enters you.

- Rumi

--
The spiritual life does not remove us from the world
but leads us deeper into it.

Some people say they feel very small when they think
about space. I felt more expansive, very connected
to the universe.

- Mae Carol Jemison

--

And above all, watch with glittering eyes the whole world
around you because the greatest secrets are always
hidden in the most unlikely places. Those who don't
believe in magic will never find it.

- Roald Dahl

--

The good news, that you can see all around now, is that
the spirit is moving among us. It is the spirit of Jesus.

And Jesus is that great voice of otherwise, who saw the
contradictions of the gospel to the Roman Empire and
who acted out an alternative.

- Walter Brueggemann

--

Have you wept at anything during the past year?
Has your heart beat faster at the sight of young beauty?

Have you thought seriously about the fact that someday
you are going to die? More often than not, do you really
listen when people are speaking to you, instead of just
waiting for your turn to speak? Is there anybody you
know in whose place, if one of you had to suffer great
pain, you would volunteer yourself? If your answer to
all or most of these questions is no, the chances are
that you're dead.

- Frederick Buechner

--

Music is pleasing not only because of the sound but
because of the silence that is in it: without the alternation
of sound and silence there would be no rhythm.

If we strive to be happy by filling all the silences of life
with sound, productive by turning all of life's leisure
into work, and real by turning all our being into doing,
we will only succeed in producing a hell on earth.

If we have no silence, God is not heard in our music.
If we have no rest, God does not bless our work. If we
twist our lives out of shape in order to fill every corner
of them with action and experience, God will silently
withdraw from our hearts and leave us empty.

- Thomas Merton

--

What is it that goes on within the soul, that it takes greater
delight if things it loves are found or restored to it than if it
had always possessed them?…The storm tosses seafarers
about and threatens them with shipwreck: they all grow pale
at their coming death. Then the sky and the sea become
calm, and they exult exceedingly, just as they had feared
exceedingly. Or a dear friend is ill.…All those who long to
see him in good health are in mind sick along with him.

He gets well again, and although he does not yet walk with
his former vigor, there is joy such as did not obtain before
when he walked well and strong.…Everywhere a great joy
is preceded by a greater suffering.

- St. Augustine

--

To become able to make something is, I think, necessary
to thorough development. I would rather have a son of mine
a carpenter, a watchmaker, a woodcarver, a shoemaker,
a jeweler, a blacksmith, a bookbinder, than I would have
him earn his bread as a clerk in a counting house. Not merely
is the cultivation of operant faculty a better education
in faculty, but it brings the man nearer to everything operant;
humanity unfolds itself to him the readier; its ways and
thoughts and modes of being grow the clearer to both
intellect and heart.…What advantage the carpenter of
Nazareth gathered from his bench, is the inheritance of
every workman, in proportion as he does divine, that is,
honest work.

- George MacDonald

*****
CLOSING THOUGHT - Joan Chittister
Try saying this silently to everyone and everything
you see for thirty days: "I wish you happiness now
and whatever will bring happiness to you in the future."

If we said it to the sky, we would have to stop polluting;
if we said it when we see ponds and lakes and streams,
we would have to stop using them as garbage dumps
and sewers; if we said it to small children, we would
have to stop abusing them;… if we said it to people,
we would have to stop stoking the fires of enmity
around us. Beauty and human warmth would take
root in us like a clear, hot June day.
We would change.
(end)
*****
For those interested:
ST. DAVID'S ACTS MONDAY NIGHT FALL BOOK STUDY

A Ten Week Series September 17th - November 26th, 2018
Monday Evenings, TM Room 7:00 PM - 9:00 PM
(No class on Thanksgiving Monday)

"THE BOOK OF JOY"
Lasting Happiness in a Changing World
Authors: Dalai Lama and Desmond Tutu
Registration/Hospitality and Book: $60.00.
Book only: $25.00
Registration and Book Sale began Sunday, August 26th
43 copies of the book were available for sale.
Background information on the study book will be
provided here during the weeks of the course.
During the 2017-2018 fall/winter two term series -
Total class registrations: 70
Total books sold: 84
Our best year ever, since we started in 1998!

***
ST. DAVID'S SPIRITUAL TRAVELERS TOUR, 2019

East Europe and Russia have been chosen as our destinations!
This will be our fifth Spiritual Travelers Tour, with a
group emerging from St. David's but very open to others.
The Tour is entitled:

"From Vienna to Moscow"

We plan a twenty-day tour that combines a focus
on spirituality, culture and the relationship between
religion and politics. The tour will run from April 26th
benefits) and special savings continue to November 15th.
So far, 21 persons have formally registered for the tour.
Our Canadian tour company is Rostad Tours, Calgary.
Contact Rostad Tours: http://www.rostad.com/
Phone 1-800-361-8687 or 403-238-4090.

Follow these notices for weekly updates.

***

ST. DAVID'S ACTS THURSDAY MORNING STUDY
Our theme this autumn: Hebrew Wisdom Literature -
"A Study of Proverbs and the Song of Solomon" -
Ten Sessions - September 20th-November 22nd, 2018

Gathering at 9:30 AM in the St. David's TM Room
and meeting 10:00 - 11:00 AM.

No charge