Vol. XIV No. 35
GLOBAL AND ECUMENICAL IN SCOPE
CANADIAN IN PERSPECTIVE

Wayne A. Holst, Editor
My E-Mail Address:
wholst@telus.net
This email is sent only to a voluntary subscriber list.
If you no longer wish to receive these weekly columns,
write to me personally -
waholst@telus.

net
****
Dear Friends:
I have an interesting book to introduce to you and
other helpful readings in this week's Colleagues List,
Please plan to spend some time with this issue if you can.
Wayne
*****
SPECIAL ITEM
Book Notice -
POWER FOR LIFE
Inspirational Guidance
for Daily Living,
by David Preston Sharp
Wood Lake Publishing,
Kelowna, BC. March, 2019
$24.95 Trade Paper.

246 pages.
ISBN #1-77343-159-8
Publisher's Promo:
Spiritual growth and learning involve change in behaviour.
Just like it is not easy to swing a golf club and hit a great drive
every time, daily living is fraught with challenges that test our commitment to be loving and peaceful. There are many ways
people grow spiritually. One person can make a huge jump in
an instant due to the circumstances of the day, or to a past
experiences; for others, spiritual growth may be more gradual, measured, and intentional.
In Power for Life, ordained minister, spiritual educator, life
teacher, and author David Preston Sharp offers a slow and
steady approach. Sharp shares both the process and the fruit
of a two-and-a-half-year meditation practice he engaged in
to further his own spiritual growth. The resulting guidance
offered in Power for Life revolves around basic themes such
as kindness, gentleness, joy, love, peace, and patience. It
also challenges our everyday level of compassion, self-control
and awareness.
In each of the 365 meditations, Sharp offers a "morning"
question for the reader to take into the day ahead, along
with words of guidance. Each "evening," he reflects honestly
on his own experience of trying to live that guidance and
invites readers to do the same.
Power for Life is an invitation to greater spiritual maturity
and the joy, gratitude, and wonder such awakening can bring.
--
David Sharp, Author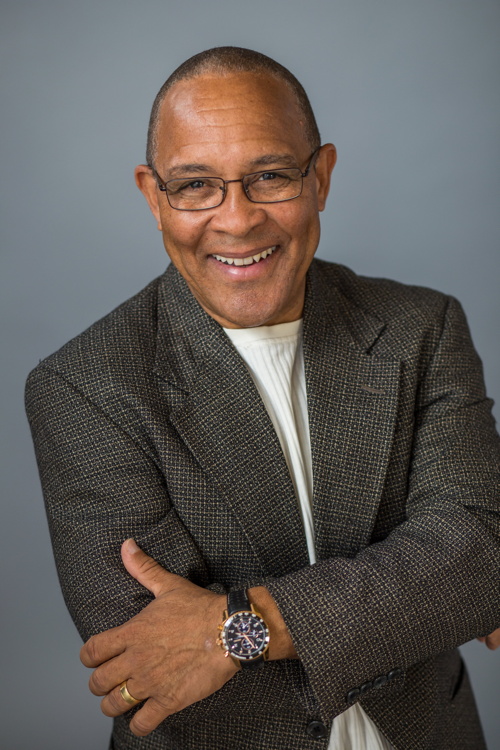 Dr. David Preston Sharp, DMin., is a life teacher. He is a
speaker, writer, performer, composer, author and spiritual
educator.
Over the last 30 years, Sharp has given countless
presentations for major corporations, civic organizations,
universities and churches, as a keynote speaker,
motivational speaker, and inspirational performer.
He has an extensive background as a creative artist and
has won awards for his songwriting and poetry. He has
performed in major theatres, including on Broadway; in
films and on television; and has directed and choreographed
for the theatre.
Sharp is an ordained minister (Presbyterian Church, USA).
He incorporates the arts as a powerful tool of communication
that complements the scholarship and intellect he brings to
bear in his lectures and presentations. He has recorded CDs
of inspiring music and poetry, has hosted a contemporary
lifestyle television show in the San Francisco Bay Area –
The Art and Soul of Urban
Living – and was editor-in-chief
of Soul Mag, a nationally

distributed magazine bridging
entertainment, culture, and spirituality. As a freelance
writer, he has been published in

numerous books, journals,
periodicals, magazines, and other

media formats.
As an educator, Sharp is on a life-long mission to expand his understanding of spirituality and share the wisdom of the
world's great truths and spiritual texts. He has worked with
people of all ages, and has a passion for teaching and sharing
the resources that allow people to live life to the fullest,
whatever the challenges.
Sharp has served on the faculty of the University of Southern
California, San Jose State University, the University of Creation Spirituality (now Wisdom University), and Naropa University.
He holds a BFA in drama from the University of Southern
California, a Masters of Divinity from San Francisco Theological Seminary, a Masters in Special Education from Santa Clara
University, and a Doctorate of Ministry from the University
of Creation Spirituality. He resides in Boulder, Colorado,
with his wife, Jeannine Goode-Allen.
--
Author's Words:
This book is the fruit of meditation, contemplation, and
deep

listening.
The motivation was my desire to deepen my communion
with

God and grow in spiritual maturity.
As I started to write the words of this book , I began to
discern how to place the words on the page which is why
it looks like poetry... I was able to journey inward to the
place where then Spirit's guidance was clearly heard.
The more I engaged in this practice, the more I became
sensitive to Spirit's voice within.
I could feel the difference between the voice of the Spirit
coming through, and my own thinking voice that was trying
to

manipulate the guidance. Though I have been doing this
practice for years now, I still experience wonder and awe
each

time I receive a guidance...
I hope you enjoy journeying with these potent words and
messages...
Are you ready?
You must be, for if the book is in your hands, it is out of mine.
May God guide us all!
--
My Thoughts:
The book has a simple format for each day of the year.
I start in the morning with a question, followed by free
association poetic guidance which prompts

me to "experience"
rather than "think" my way through the day.
The usual evening r

eflection helps me to consider the
developments of the

intervening hours in a thoughtful,
but not regimented

manner. I can then prepare myself
for

rest.
What you have, therefore, is a kind of devotional companion.
Over the years, I have introduced various devotional books
on Colleagues List. This one is different in that it encourages
me to leave the discipline of the page and enter into a kind of
experiential journey, the kind on which a poet might lead me.
The writing is about basic things, but one can be carried into
new realms, not previously visited.
For those wanting to grow in their spiritual journey, especially
during the Lenten season, this book helps begin a new venture.
It may well open the door to a new way of spiritual reflection.
-----
Buy the book from Woodlake
https://tinyurl.com/y44uolka
*****
COLLEAGUE CONTRIBUTIONS
Martin Marty,,
Chicago, il.

Sightings,
March 11th, 2019

"Varieties of Unbelief"
http://tinyurl.com/y6hafa9e
--

Jim Taylor,
Okanagan, BC

Personal Web Log
March 13th, 2019

"The Holiness in Our Relationships"
http://tinyurl.com/y6dsdaqh

--

Ron Rolheiser,
San Antonio, TX

Personal Web Site
March 12th, 2019

"Lessons Through Failure"
http://tinyurl.com/y6dgbpz
*****
NET NOTES

HUGE STATUE OF CHRIST
PLANNED FOR RUSSIAN SITE
It Was Once Set Aside for
a Giant Statue of Stalin

Religion News Service,
March 13th, 2019

https://tinyurl.com/y6xe735e

--

BARBARA BROWN TAYLOR
HAS A CASE OF HOLY ENVY
As She Desires the Faith of Others-
It's Changed Her Own Christian Life

Religion News Service,
March 12th, 2019

https://tinyurl.com/y4posc9b

--

CHINA VOWS TO RID CHRISTIANITY
OF WESTERN INFLUENCE
It Fears "Fifth Column" Infiltration

Christian Post,
March 13th, 2019
https://tinyurl.com/y4ue6pw2
--
CHINESE PROTESTANT LEADER LAUDS
SINICIZATION OF RELIGION
Sees Western Subversion Threat
UCA News,
March 15th, 2019
http://tinyurl.com/y5hjtgk7
--
IMPORTANT STEP FOR PEACE,
HEALING BETWEEN THE KOREAS
The Panmunjom Accords

United Church of Canada
March 12th, 2019

https://tinyurl.com/y57e229a

--

MORE THAN A THIRD OF U.S.
CATHOLICS QUESTION LOYALTY
In Light of Church Sex Scandals

Religion News Service,
March 13th, 2019

https://tinyurl.com/yxdns98x

--
GRETTA VOSPER'S SETTLEMENT
COULD RE-DEFINE THE UNITED CHURCH
The Decision has Divided Members and
Forced Questions About the Future
United Church Observer Online

--

NEW THEOLOGY BOOK COUNTERS VIEW
THAT THE UNITED CHURCH STANDS FOR NOTHING
Colleagues Schweitzer and Fennell as Well as Bourgeois
Collaborate on a UCC Theological Assessment

United Church Observer Online,
February, 2019

https://tinyurl.com/y4fj2gm3

--

FROM SACRED TO SECULAR -- CHARITY SAYS-
THAT CANADA SET TO LOSE 9,000 CHURCHES
Shrinking Congregations, Rising Maintenance Costs

CBC.ca
March 10th, 2019

https://tinyurl.com/y2yjx47g

*****
WISDOM OF THE WEEK

This is what my soul is telling me,
be peaceful and love everyone.

- Malala Yousafzai

--

We seek justice in the world, we fight for the
flourishing of each and all, not just because
we suffer with others, but because we sense
the luminosity and love the loveliness.

- Mayra Rivera

--

Like our Saviour, we too carry evidence of our
wounds. The invisible scars in our hearts and
soul, the scars no one sees, are marks of beauty.
They are the hurts that draw us nearer to our
mortality, that compel us to not look away from
the condition of our souls.

- Erendira Ramirez-Ortega

--

I want to be outside with the misfits, with the rebels,
the dreamers, second-chance givers, the radical
grace lavishers, the ones with arms wide open, the
courageously vulnerable, and among eve - or maybe
especially - the ones rejected by the Table as not
worthy enough or right enough.

- Sara Bessey

--

Purging the soul is a lifetime effort. There is no
reason to be upset by our imperfections, for
perfection is nothing more than fighting against
them. How can we resist them unless we see
them? How can we overcome them unless we
face them?

- Francis de Sales

--

Forgiveness is the answer to the child's dream
of a miracle by which what is broken is made whole
again, and what is soiled is made clean again. The
dream explains why we need to be forgiven, and
why we must forgive. In the presence of God,
nothing stands between him and us – we are
forgiven. But we cannot feel his presence if
anything is allowed to stand between ourselves
and others.

- Dag Hammarskjöld
--

If I am soft to myself and slide comfortably into
self-pity and self-sympathy, if I do not by the grace
of God practice fortitude, then I know nothing of
Calvary love. If I myself dominate myself, if my
thoughts revolve round myself, if I am so occupied
with myself I rarely have "a heart at leisure from
itself," then I know nothing of Calvary love.…

That which I know not,teach Thou me, O Lord,.

- Amy Carmichael
--

Christ was crucified because he would have nothing
to do with the crowd (even though he addressed
himself to all). He did not want to form a party,
an interest group, or a mass movement, but wanted
to be what he was, the truth, which is related to the
single individual. Therefore everyone who will
genuinely serve the truth is by that very fact a martyr.
To win a crowd is no art; for that only untruth is needed,
nonsense, and a little knowledge of human passions.
But no witness to the truth dares to get involved with
the crowd.

- Søren Kierkegaard
*****

MOMENT IN TIME
March 13th, 1881

Czar Alexander II, the ruler of Russia since 1855,
is assassinated in St. Petersburg

March 13, 1881: Czar Alexander II's grandfather and
great-grandfather had been murdered and he himself
survived six regicide attempts. The deadly seventh
strike came on March 13, 1881 (March 1 according
to the Julian calendar used in Russia at the time).

He was travelling by carriage along the Catherine
Canal in St. Petersburg on his way from Mikhailovsky
Manege to the Winter Palace when a terrorist named
Nikola Rysakov tossed a package under the horses.
The blast damaged the rear of the coach and killed a
guard and a young boy. The unharmed Czar got out
of the carriage and walked around, making himself
vulnerable to a second bomb thrower,

Ignati Grinevitsky, who was part of the murderous
conspiracy. During his 26-year reign, Alexander II
had emancipated 23 million serfs, banned corporal
punishment in the military, given the defence a voice
in the courts, sold Alaska to the United States, fought
wars in the Crimea and Caucasus, and eased up on
his iron-fisted father's censorship regime. Writers,
scientists and political movements flourished in this
period. Notable among them was the People's Will,
a secret society of violent revolutionaries who believed
they could end autocracy by targeting the emperor.

The second package landed right at the Czar's feet.

– Joy Yokoyama
CLOSING THOUGHT - G.K. CHESTERTON
"As we should be genuinely sorry for tramps and paupers who are materially homeless, so we should be sorry for those who are morally homeless, and who suffer a philosophical starvation as deadly as physical starvation." (Illustrated London News, Nov. 24, 1934)
Current ACTS Ministry Activities at
St. David's United Church, Calgary
CANADIAN AUTHOR MARY JO LEDDY
Launches her new book in Calgary -
"WHY ARE WE HERE? - A Meditation on Canada"
Book Sale and Signing, Q&A, Hospitality
St. David's United Church
3303 Capitol Hill Crescent, NW
Monday, April 1st, 2019
7:00PM - 9:00 PM
Welcome!
ANNUAL ST. DAVID'S LENTEN RETREAT
Mount St. Francis Retreat Centre
Cochrane, AB
http://www.mountstfrancis.ca/
Theme: "Who Do You Say That I Am?"
Led by Spiritual Director Susan Campbell

Completed on Sunday, March 10th, 2019
11:30 AM to 4:00 PM

Cost: $30.
(includes registration, lunch and refreshments)
25 persons registered for the event.

Restful reflections and nature walks, weather excellent...

***
ST. DAVID'S ACTS WINTER MONDAY NIGHT BOOK STUDY
A Ten Week Series January 14th - March 18, 2019
Monday Evenings, TM Room 7:00 PM - 9:00 PM

"THE GREAT SPIRITUAL MIGRATION"
How the World's Largest Religion is
Seeking a Better Way to be Christian
Author: Brian D. McLaren
Final Session on "the common good"
Guest: Ryan Anderson, lead-organizer
Calgary Alliance for the Common Good

Registration/Hospitality and Book: $60.00.
Book only: $20.00
45 copies of the book were made available for sale.
--
Some stats:
Autumn, 2018 Program -
Total class registrations: 42
Total books sold: 57
Autumn and Winter Series (2018-19) -
Total class registrations: 87

***
ST. DAVID'S SPIRITUAL TRAVELERS TOUR, 2019
East Europe and Russia were chosen as our destinations!
This will be our fifth Spiritual Travelers Tour, with a
group emerging from St. David's but very open to others.
The Tour is entitled:

"From Vienna to Moscow"

We plan a twenty-day tour that combines a focus
on spirituality, culture and the relationship between
religion and politics. The tour will run from April 26th
through May 16th, 2019.
https://tinyurl.com/y834742f
A beautiful brochure with trip cost, itinerary, and
many helpful travel hints has been published.
https://tinyurl.com/y7j55gym
Our trip sale reached an important milestone
as 38 persons registered, helping us to

surpass
our

optimal goal of 30 passengers.
30 travelers had paid their trip fare as of the deadline:
January 15th, 2019. This will be our travel group.
Our Canadian tour company is Rostad Tours, Calgary.
Contact Rostad Tours: http://www.rostad.com/
Phone 1-800-361-8687 or 403-238-4090.

Follow these notices for weekly updates.
Pre-trip gathering for those travelling -
Monday, March 25th, 2019. 7-9PM
TM Room, St. David's.

***
ST. DAVID'S ACTS THURSDAY MORNING BIBLE STUDY
Our theme this winter: Hebrew Biblical History -
Ten Sessions - January 24th-March 28th, 2019

Gathering at 9:30 AM in the St. David's TM Room
and meeting 10:00 - 11:00 AM.

No charge